In his later years Frankenheimer would come full circle, returning
to the TV movie milieu he'd helped create in the 1950s, only this time freely
tackling the kind of sociallytrenchant material the censors back then wouldn't allow.
After a quartet of critically lauded but generally unseen (mostly because of independent studio financing difficulties) films including 52 PICK UP (1986), DEAD BANG (1988), THE FOURTH WAR (1989) and YEAR OF THE GUN (1991) - some of the best thrillers Frankenheimer had directed in years, he was approached to helm an installment of TALES, which he at first declined. It had no budget, the pay was only scale, and it had to be shot in four days.


After explaining those reasons to a friend, the friend responded, "Sure, call 'em and tell 'em 'no', and then sit by the phone waiting for it to ring again while you dream about the good old days". Frankenheimer took the job and filmed the CRYPT episode "Maniac At Large" - about a literate serial killer on the loose in a library. The experience lead to a growing respect between Frankenheimer and the creative heads at HBO, and to an offer to direct their Attica prison drama AGAINST THE WALL.




TALES FROM THE CRYPT - "MANIAC AT LARGE" (HBO - orig. airdate 8/19/92)

"John Frankenheimer has triumphantly returned to the medium that catapulted
his career 40 years ago with a simmering, seething retelling of the 1971 Attica rebellion"


- Daily Variety's review of AGAINST THE WALL (3/25/94)


AGAINST THE WALL (HBO - orig. airdate 3/26/94)

" When they filmed a couple of the violent scenes, it was so close to what actually happened,
it gave me the same sensation that it did 20 years ago. I guess people will see different things
in the film. I hope somehow that it makes an impression about man's inhumanity to man ".
- Michael Smith (portrayed in AGAINST THE WALL by Kyle MacLachlan)

Attica Correctional Facility - Sept., 1971 (archival photo)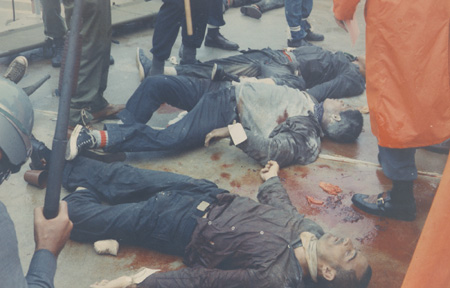 AGAINST THE WALL exploded like a socio-political moletov cocktail, not only within the TV world, but throughout the film industry in general. Opening a new dialog on the still controversial topic of "inmate reform vs. punishment" on TV interview and documentary shows across the nation, the film sent viewers scrambling to local libraries to learn more of the infamous standoff between prisoners, guards and the New York state government during four of the most violent days in the history of the American penal system in September of 1971.


From a career standpoint for the now 64 year old Frankenheimer, it was as if he was the hot young film school grad or former MTV video directing wunderkind who'd suddenly caught the fancy of the industry. The film, shot quick and dirty, and mostly with two hand held cameras and lots of Steadicam by cinematographer John Leonetti, re-ignited the director's career and placed him overnight at the top of every producer's "gotta have him" list. AGAINST THE WALL would win Frankenheimer that year's Emmy for "Outstanding Individual Achievement in Directing for a Mini-series or Special". And the night before his win (Sept. 13, 1994), the Los Angeles premiere was held for his next HBO film THE BURNING SEASON (1994).


Directing Samuel L. Jackson in AGAINST THE WALL

Producer David Putnam's (CHARIOTS OF FIRE, THE MISSION) drama (about real life
Brazilian activist Chico Mendes' life threatening campaign against political and corporate intimidation of Brazilian nationals attempting to preserve their rain forests from developers) had been in development for years as a Hollywood feature. But when Putnam refused to cast a Caucasian actor as Mendes, the
project everyone originally loved eventually found itself in the industry purgatory known as "development hell".


That was until it found a new home with HBO and Frankenheimer, the pair presently burning up the critical and awards scene with AGAINST THE WALL. THE BURNING SEASON eventually starred Raul Julia, Sonia Braga, Luis Guzman and Edward James Olmos. It would be a multi Golden Globe winner for it's cast and crew (Frankenheimer as well taking home another honor); and the director would follow with the sprawling Ted Turner-produced Civil War mini-series ANDERSONVILLE (1996). Loosely based on the diary of Union soldier John Ransom, the critically lauded film detailed the horrific conditions endured by Northern soldiers held and tortured at the infamous Confederate prison camp.


THE BURNING SEASON (1994)


The final phase of John Frankenheimer's career saw him as elder statesman / teacher to a new generation of filmmakers while at the same time breaking new ground as a technical trend setter with features such as the third film version of H.G. Welles' THE ISLAND OF DR. MOREAU (1996) starring Marlon Brando and Val Kilmer; RONIN (1998) with Robert DeNiro and Jean Reno; and REINDEER GAMES (2000), as well as with a final pair of politically themed HBO TV movies: GEORGE WALLACE (1997) starring Gary Sinese, Angelina Jolie, Mare Winningham, Clarence Williams III and Joe Don Baker; and PATH TO WAR (2002) - his final film, starring Michael Gambon, Alec Baldwin and Donald Sutherland, which centered on the controversy within President Lyndon Johnson's White House as his administration debated American involvement in Vietnam.
THE ISLAND OF DR. MOREAU (1996)
While THE ISLAND OF DR. MOREAU would not ingratiate itself with most critics, of the three film adaptations of Welles' classic 1896 story (including ISLAND OF LOST SOULS - 1933, and the 1977 version starring Burt Lancaster and Michael York), Frankenheimer's rendition (he was brought in to replace original director Richard Stanley) actually does follow the Welles' narrative most faithfully, right down to bits of dialog … at least in the film's first half.



The final act is also impressive with Frankenheimer at his socio-political best as the "manimals" kill their creator, take over the island, and the sequences deliberately take on the look and feel of contemporary violence in the streets of Beirut, Northern Ireland and other urban war zones ... even Attica; the director once again using the popular pulp thriller medium (as with THE MANCHURIAN CANDIDATE, SEVEN DAYS IN MAY and BLACK SUNDAY) to make pointed notions on mankind's political-power-seeking predilections. In this instance MOREAU's final 30 minutes playing like a full blooded (and bloody) version of George Orwell's ANIMAL FARM.




Even Frankenheimer's popular action / thriller RONIN (1998), while lauded by critics and audiences, as well as being a financial success, wouldn't escape a few misplaced criticisms. Upon the film's September 1998 release, some incorrectly accused it and director Frankenheimer of cribbing the fast paced editing style of it's car chases
from popular French films such as Jean-Jacques Beineix's DIVA (1981) and producer / writer / director Luc Besson's SUBWAY (1985), LE FEMME NIKITA (1990) and TAXI (1998).
The more accurate actuality however (for those caring to glance back a little further into film history) is that those films based much of their style on the actioners Frankenheimer made while living and/or working in France in the 1960s and 70s: movies like THE TRAIN (1964), GRAND PRIX (1966) and FRENCH CONNECTION II (1975) - proof that the elder cinematic Sensai was continuing to influence the new movie-making youngbloods .
RONIN (1998) - Car Chase #1

(4:28)


Even Steven Spielberg would crib one last Frankenheimer trick for use in 1998's SAVING PRIVATE RYAN. Structurally RYAN borrows from GRAND PRIX in that it's essentially a two hour film with it's opening and closing action sequences both stretched into harrowing half hour self contained mini films, thus bringing the movie's total running time to three hours.


The most obvious technical "borrow" however is a wonderful in-production "cheat" Frankenheimer thought up for 1966's GRAND PRIX in order to keep from having to re-shoot an entire sequence. During filming of a Formula One racing sequence at Spa, Belgium, part of the shoot occurred in bright sunshine with the remainder during a sudden rain deluge where a thousand extras put up umbrellas. In Los Angeles Times film critic Charles Champlin's JOHN FRANKENHEIMER: A CONVERSATION (1995 - Riverwood Press) the director recounts how he cleverly and inexpensively solved the problem:



GRAND PRIX (1966)


"Back in Culver City, looking at that footage, it was three in the morning and I was really in despair about the transition and I got this crazed idea. I went over to the Insert department myself. I put a light on a watch - the same watch I'm wearing - turned on the camera, did a close up of the watch and then stood above the camera and with an eye dropper dropped about five drops of water on the watch. Then we put a thunder clap over that - BOOM, BOOM, BOOM, BOOM - and that's the way we made the transition in the movie. In TIME's review, and they loved the movie, they said the most memorable shot in the movie was the watch with the water dropping on it".
At the beginning of production on RYAN Spielberg declared the film would not delay shooting for weather variations. He then encountered a similar "sunny then rainy" afternoon meteorological debacle as Frankenheimer did
on GRAND PRIX ... and he solved the problem exactly the same way - with a close-up insert … only inserting a bit of foliage sprinkled with the first few drops from a garden hose rather than a watch with an eye dropper.



MUNICH (2005)





It must also be acknowledged that Spielberg's superlative 2005 historical political thriller MUNICH is not only a thematic descendant of Frankenheimer's nail biters of the same school, but also very much in it's visual and tonal technical execution (cinematography, editing, minimalist John Williams' score), MUNICH is directly influenced by the director's SEVEN DAYS IN MAY, THE HOLCROFT COVENANT (1985) and BLACK SUNDAY ... not to mention a debt also to Fred Zinneman's THE DAY OF THE JACKAL (1973).



THE HIRE (2001 - 2002)















One of the "elder Sensai's" final contemporary influences was on BMW's popular 2001 - 2002 promotional series of mini action films THE HIRE. Consisting of eight short adventures starring Clive Owen as a mysterious "Driver" (who always uses a BMW vehicle for his commissioned jobs) each ten minute rubber burner was helmed by a famous international director.


Frankenheimer's premier entry "Ambush" debuted online April 26, 2001, and was followed by subsequent episodes from Ang Lee, Wong Kar-Wai, Guy Ritchie, Alejandro Gonzalez Inarritu, John Woo, Joe Carnahan and Tony Scott. It's amazing that Frankenheimer is the oldest director in a group of contemporary action filmmaker auteurs most of whom are 25 - 40 years his junior. And it speaks to his lasting technical proficiency as well as to his cutting edge artistic vision and influence that he was never thought of as "quaint" or "old school" in the midst of such visually kinetic younger movie makers.

With Ben Affleck and Charlize Theron on REINDEER GAMES (2000)
John Frankenheimer would pass away on July 6, 2002 following a stroke as a result of complications from spinal surgery. Some time before he was asked his honest opinion about a new crop of filmmakers and studio executives he saw on the rise. And the man Rod Steiger once referred to as the "fighter", responded with a characteristic "one-two punch" of frustrated bluntless combined with a nurturing respect for the new breed.




Directing Michael Gambon as LBJ in PATH TO WAR (2002)

"There are a lot of young people in this business. How they get to do these jobs I don't know. I mean, I have no formula as to how to go to get a job in the move business. But I do find that many of the young people that are in responsible positions are very bright. If I have one complaint it's that a lot of them have no sense of history whatsoever.


They have no sense of what went before. They have no sense of who the great directors were before their generation. And I'm not just trying to be self serving by saying that. But they really have no knowledge of William Wyler. No knowledge of Fred Zinneman. No knowledge of Carol Reed. No knowledge of some of the great men that made movies; that influence the way that movies are made today".

John Frankenheimer on Movies and Auteur Theory:
TVO's SATURDAY NIGHT AT THE MOVIES (1994)



(2:36)




MoveMaker magazine (March/April 1996)

Any aspiring film makers out there, take notice - to not only the words, but to the career of one of those legendary artist who's influence continues even today to permeate and shape the "warf and weft" ... the very concept, of what constitutes the craft of that better brand of contemporary film making.


"Hai, Grand Sensai!
Hai!"

CEJ - Sept. 2011 (rev. 8/5/14)

JOHN FRANKENHEIMER
Filmography:
2002 Path to War (TV movie)
2001 Ambush (short)
2000 Reindeer Games
1998 Ronin
1997 George Wallace (TV movie)
1996 The Island of Dr. Moreau
1996 Andersonville (TV movie)

1994 The Burning Season (TV movie)


ANDERSONVILLE (1996)

1994 Against the Wall (TV movie)
1992 Tales from the Crypt (TV series)
– Maniac at Large (1992)
1991 Year of the Gun
1990 The Fourth War
1989 Dead Bang
1987 Riviera (TV movie) (as Alan Smithee)
1986 52 Pick-Up
1985 The Holcroft Covenant
1982 The Rainmaker (TV movie)
1982 The Challenge
1979 Prophecy
1977 Black Sunday
1975 French Connection II
1974 99 and 44/100% Dead
1973 The Iceman Cometh
1973 Story of a Love Story
1971 The Horsemen
1970 I Walk the Line
1969 The Extraordinary Seaman
1969 The Gypsy Moths
1968 The Fixer
1966 Grand Prix
1966 Seconds




BIRDMAN OF ALCATRAZ (1962)


1964 The Train
1964 Seven Days in May
1962 The Manchurian Candidate
1962 Birdman of Alcatraz
1962 All Fall Down
1961 The Young Savages
1956-1960 Playhouse 90 (TV series)
– Journey to the Day (1960)
– For Whom the Bell Tolls: Part 2 (1959)
– For Whom the Bell Tolls: Part 1 (1959)
– The Blue Men (1959)
– Face of a Hero (1959)
See all 27 episodes »
1959-1960 Sunday Showcase (TV series)
– The American (1960)
– People Kill People Sometimes (1959)
1960 The Snows of Kilimanjaro (TV movie)
1960 The Fifth Column (TV movie)
1959/I The Turn of the Screw (TV movie)
1959 Startime (TV series)
– The Turn of the Screw (1959)
1959 The DuPont Show of the Month (TV series)
– The Browning Version (1959)
1958 Studio One in Hollywood (TV series)
– The Last Summer (1958)
1957 The Young Stranger




GRAND PRIX (1966)




THE TRAIN (1964)



1955-1956 Climax! (TV series)
– To Scream at Midnight (1956)
– Figures in Clay (1956)
– Flame-Out in T-6 (1956)
– Sit Down with Death (1956)
– Spin Into Darkness (1956)
See all 26 episodes »
1956 The Ninth Day (TV movie)
1954-1955 Danger (TV series)
– The Dark Curtain (1955)
– No Passport for Death (1955)
– Precinct Girl (1955)
– Treasure of the Argo (1954)
– Knife in the Dark (1954)
See all 6 episodes »
1954 You Are There (TV series)
– The Plot Against King Solomon (965 B.C.) (1954)







AWARDS:

Hollywood Film Festival: Hollywood Film Award, Outstanding Achievement in Directing, 2001

National Board of Review: Billy Wilder Award, 1999

Ft. Lauderdale International Film Festival: President Award, Robert Wise Director of Distinction, 1998

Casting Society of America: Lifetime Achievement Award, 1998

San Diego World Film Festival: Lifetime Achievement Award, 1998

Emmy: Outstanding Directing for a Miniseries or a Movie, "George Wallace," 1998

Academy of Science Fiction, Fantasy & Horror Films: Lifetime Achievement Award, 1997

CableACE: Directing a Movie or Miniseries, "George Wallace," 1997

CableACE: Miniseries, "George Wallace," 1997

Emmy: Outstanding Individual Achievement in Directing for a Miniseries or a Special, "Andersonville," 1996

Emmy: Outstanding Individual Achievement in Directing for a Miniseries or a Special, "The Burning Season," 1995

Emmy: Outstanding Individual Achievement in Directing for a Miniseries or a Special, "Against the Wall," 1994

Mystfest: Special Jury Award, 1994

Bodil: Best Non-European Film (Bedste ikke-europæiske film), "Seven Days in May," 1965