____________________________________________________________


DECEMBER 2011 / JANUARY 2012
Dreamscape
(Zupnik Curtis - Chevy Chase Films -
20th Century Fox / 1984)

Released late in the summer of 1984, director Joseph Ruben's slim budgeted but nifty sci-fi / horror / MANCHURIAN CANDIDATE-esque thriller mash-up impressively managed to hold it's own in a year crowded by blockbusters such as GHOSTBUSTERS, BEVERLY HILLS COP, FOOTLOOSE, INDIANA JONES AND THE TEMPLE OF DOOM, GREMLINS, ROMANCING THE STONE, THE KARATE KID, SPLASH and STAR TREK III: THE SEARCH FOR SPOCK. Not only that, but it managed to snag a cast far impressive than any of those films (Dennis Quaid, Kate Capshaw, Max Von Sydow, Christopher Plummer and Eddie Albert), make a modest profit, and go on to develop a fervent cult following (thanks to the early days of the VHS player) enough to influence later movies such as Tarsem Singh's 2000 film THE CELL, and especially Christopher Nolan's INCEPTION in 2010.

Dennis Quaid (in his third film for director Ruben following OUR WINNING SEASON-1978 and GORP-1980) stars as Alex Gardner, a man with natural born psychic abilities who is inducted by old friend and former teacher Dr. Novotny (Max Von Sydow) into a research program wherein he and those similarly gifted are taught to enter the REM dream states of others in order to help them sort through deeply buried psychological trauma. When the program is co-opted by Bob Blair (Christopher Plummer) - an ultra conservative CIA operative unhappy about the US President's (Eddie Albert) nuclear disarmament policy, Alex finds himself entering the President's recurring dystopian nightmare-scape to save him from a "he died in his sleep from a heart attack" assassination attempt by one of Blair's more psychotic-ly gifted recruits (David Patrick Kelly - pretty scary in the nightmare as the metamorphosing "SnakeMan").



From an outline originally conceived by science fiction novelist Roger Zelazny (DAMNATION ALLEY), the final story by Ruben, David Loughery (STAR TREK V: THE FINAL FRONTIER, MONEY TRAIN, LAKEVIEW TERRACE) and Chuck Russel (THE MASK, ERASER) cleverly integrates classic horror, sci fi, conspiracy theory and even comedic elements (CHEERS' star George Wendt as a Stephen King-like horror novelist!) into a zippy 99 minutes which for sheer enjoyment still rivals many of today's CGI laden but often hollow "franchise" epics.


DREAMSCAPE would be director Ruben's step up from the low budget "B" world into more prestigious "A"s. He'd follow with, among others the 1989 James Woods / Robert Downy Jr. legal thriller TRUE BELIEVER, Julia Roberts' SLEEPING WITH THE ENEMY-1991, MONEY TRAIN-1995 and his return to TWILIGHT ZONE-ish sci fi - THE FORGOTTEN- 2004, starring Julianne Moore.



Dir. - Joseph Ruben
Pro. - Stanley R. Zupnik,
Bruce Cohn Curtis, Jerry Tokofsy
Screenplay - David Loughery, Chuck Russell, Joseph Ruben
Story - David Loughery,
Roger Zelazny (uncredited)
Ed. - Lorenzo de Stephano,
Richard Halsey
Dir. of Photo. - Brian Tufano
Music - Maurice Jarre
Running Time: 99 mins.





____________________________________________________________

SEPTEMBER / OCTOBER 2011
1941
(Universal - Columbia / 1979)

Upon initial release in December of 1979, the film 1941 quickly became the most maligned of director Steven Spielberg's career. Panned by U.S. critics, it became part of a group of big budget director-driven projects over the course of three years (1977 - '80) cited by detractors as overblown, self-indulgent film making from the new crop of cinema wunderkinds who just a few years earlier had so impressed. Martin Scorcese's critically lauded MEAN STREETS ('73), ALICE DOESN'T LIVE HERE ANYMORE ('74) and TAXI DRIVER ('76) were followed by the expensive and financially disappointing musical-drama NEW YORK NEW YORK ('77). And just around the corner Michael Cimino's opulent period piece HEAVEN'S GATE ('80) would come on the heels of his Oscar Winning THE DEER HUNTER ('78), and be blamed for the demise of United Artists. Now it was Spielberg's turn to be the poster boy for "arrogance and excess" ... and it was mostly unfair.


With a huge cast (incl. Dan Aykroyd, John Belushi, Ned Beatty, Lorraine Gary, Christopher Lee, Treat Williams, Warren Oates and Toshiro Mifune ... many of them vying for laughs) is 1941 overblown and excessive? And does that excess take away from some of the film's better aspects. You bet! But it's certainly not the "middle finger" raised at the studio system and society it was unjustly painted to be. It has more positive than negatives, especially for film lovers. And it's humor, while at times bawdy, is far from the shameless (tasteless?) school of many contemporary (so-called) comedies. In fact there really is a kind of naive' innocence to 1941's "bawdiness". The film is also very post modern in the sense that as a movie it is acutely aware that it is indeed a movie. No characters talking to the audience or anything of the sort. But in it's cinematic style it precedes the Tarantino-esque movie geek's love of film expressed via ... homage to the medium itself.

Dir. Spielberg fraternizes with cinema legends Christopher Lee (left) & Toshiro Mifune (right)

For example a great deal of 1941's humor is of the physical Chaplin, Harold Lloyd and even Three Stooges sort. Some love it, others don't. It's certainly Chaplin-esque in it's minute and detailed execution of the timing of the physical gag. The famous scene in RAIDERS OF LOST ARK (1981), where Nazi goon Toht enters the desert tent and extracts a "torture device" which humorously turns out to be a harmless plastic hanger, was first done in 1941 with Nazi representative Christopher Lee aboard the Japanese sub, but it was never carried off to Spielberg's satisfaction, and therefore removed. And the mind-boggling choreography of the hilarious "jitterbug contest" (the movie's highlight - arriving approx. 48 mins. into the film; and later re-worked as TEMPLE OF DOOM's opening nightclub brawl / shootout) even impressed the hell out of the film's harshest critics.

John Williams' thunderous score is "guts 'n glory" John Phillip Sousa tongue-in-cheek without being cloyingly so. And the film's visual effects, sound, and smashingly gorgeous cinematography by William A. Fraker (ROSEMARY'S BABY, BULLITT) all earned well deserved Oscar nominations. Removed from the hot-bed context of it's initial release there really is a lot to enjoy in 1941. Judge for yourself.








Dir. - Steven Spielberg
Pro. - John Milius, Buzz Feitshans
Writ. - Robert Zemeckis &
Bob Gale
Ed. - Michael Kahn
Dir. of Photo. - William A. Fraker
Music - John Williams
Running Time: 118 mins.










*NOTE* At present Hulu is not authorized to run 1941 on TV or mobile devices. As a
precaution it is therefore only available to view via Hulu directly. Watch and enjoy
by clicking http://www.hulu.com/watch/263329/1941

Hey, it's free! What more do 'ya want?

___________________________________________________________________________________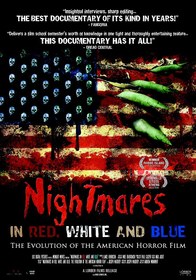 JULY / AUGUST 2011
NIGHTMARES IN RED, WHITE AND BLUE:
The Evolution of the American Horror Film
(Midnight Movies/ Lux Digital / 2009)

Intelligent, lovingly detailed (and pretty damned cool) documentary tracing the history of America's love affair with the cinema version of "things that go bump in the night". From it's literary, then European Expressionists influences; through World Wars, economic depressions, and social change, the rise of the genre in the U.S., from silent classics to the modern slasher flick, is examined by some of the art form's most experienced practitioners including LARRY COHEN (SALEM'S LOT, CARRIE), JOE DANTE (THE HOWLING, GREMLINS), JOHN CARPENTER (HALLOWEEN, THE FOG, THE THING), MICK GARRIS (THE STAND), GEORGE A. ROMERO (NIGHT OF LIVING DEAD, THE DARK HALF, CREEPSHOW) and others.

Narr. - Lance Henriksen
Dir. - Andrew Monument
Written by - Joseph Maddrey (based on his book)
Running Time: 96 mins.

___________________________________________________________________________________